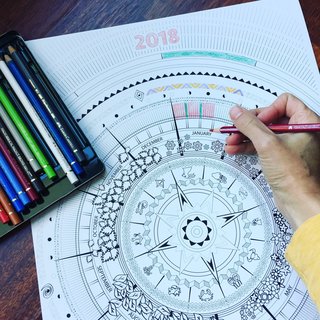 (Texto en español abajo)
Some years ago I started to imagine and research new ways of visualizing time. The conventional calendars measure time in a linear and progressive way. The model is highly deterministic linear thinking, as well as reductionist since it breaks down the total into smaller pieces, reducing interactions between them. The whole is composed of independent parts.
The linear model is now contradictory, since we know that our universe is basically made up of nonlinear systems in the physical, biological, psychological and social levels.
Studying and reflecting about this subject I started to draw circular calendars as a way to understand time.
I came up with the idea of a circular calendar, a one page drawing containing a full year: 365 days, 12 months, 12 full moons, 12 zodiac signs and 4 seasons.
This the fifth year I design a round calendar. It's an artistic piece and a functional object at the same time because you can color it.
If you want to know more about my interest on visualizing time please visit this post in my blog:
https://beatrizintransit.wordpress.com/2017/11/24/visualizing-time-2/
This year I have printed 100 copies and they are available for purchase at my
ETSY
shop
NEW Coloring Calendar 2018!
SIZE
: 35×50 cm (11.8×19.6 inches)
PAPER
: Printed in high quality paper. You can color it with pencils, markers, crayons, watercolors or whatever you like.
—————————————-
ESPA
ÑOL
Hace unos años empece a interesarme en crear nuevas formas de visualizar el tiempo. Los calendarios convencionales miden el tiempo de forma lineal y progresiva. El modelo es determinista y linear, así como reduccionista ya que divide el todo en pequeñas partes separadas, reduciendo sus interacciones.
Este modelo lineal es ahora contradictorio ya que sabemos que nuestro universo está basicamente hecho de sistemas no lineales, tanto en a nivel físico, como biológico, psicológico y social.
Estudiando y refleccionando acerca de este tema se me ocurrió diseñar un calendario circular, un dibujo de una sóla página que contiene un año entero: 365 días, 12 meses, 12 lunas llenas, 12 signos del zodiaco y 4 estaciones.
Esta es la quinta edición de un calendario circular que diseño. Se trata de una pieza artística y también una ilustración que puedes personalizar coloreando día a día.
Un objeto artístico y a la vez funcional.
TAMA
ÑO: 35×50 cm (11.8×19.6 pulgadas)
PAPEL
: Impreso en papel de alta calidad para que puedas colorear con lápices de colores, marcadores, crayones, ceras, acuarela o lo que quieras.
Para comprar un ejemplar de este Calendario 2017 visita mi tienda
ETSY
:
https://www.etsy.com/listing/560956166/coloring-calendar-2018-wall-calendar-one
Si quieres saber más acerca de mi interés sobre el tiempo y formas de visualizarlo te invito a visitar este post en mi blog:
https://beatrizintransit.wordpress.com/2017/11/24/visualizing-time-2/